It's often said that "little things mean a lot" and never is this expression truer than when considering the relative advantages of worm drive hose clamps as compared with nut and bolt clamps.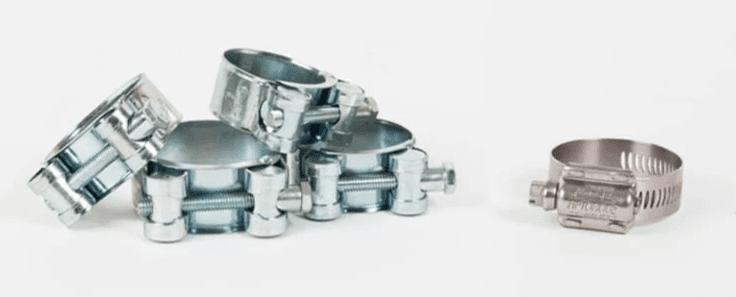 UNIFORM PRESSURE
Hose ClipJCS's Hi-Grip stainless steel worm drive hose clamps have been specifically designed for tough and wire reinforced hoses and for when an extra margin of safety and reliability is required.
Our tests show that our worm drive clamps outperform nut and bolt type clamps due to the fact that they tighten more uniformly and offer a consistently higher sealing pressure.
What's more, users across numerous industry sectors find them easy to work with. Worm drive clamps are quicker to fit, have no loose parts to lose in awkward places and require less space than other heavy-duty hose clamps.
LARGER ADJUSTMENT
Another key advantage of JCS' worm drive clamps is that they offer users reduced inventory costs and storage space compared with nut and bolt clamps because they have a larger adjustment for each size. This means businesses do not have to stock so many items.
We calculate that businesses that are looking to stock clamps that cover circumferences ranging from 25 mil to 200 mil will have to keep up to 31 nut and bolt clamps in their inventory.
Users stocking worm drive clamps with their larger adjustment potential will need to keep less than half this number of pieces of kit on the shelf – and would require only 15 clamps to cover the same circumference range.
SOLD WITH INTEGRITY
Although we produce hundreds of hose clamps each week, we never take their design and manufacture for granted – always in the back of our minds is the knowledge that expensive machinery and critical equipment relies on the sound integrity offered by our humble hose clamps.
That's why we say "little things mean a lot".
---
View our selection